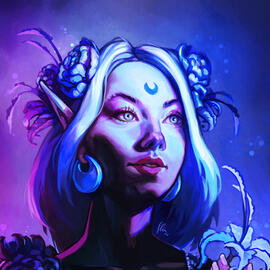 flügelchen
fantasy illustration, character design & concept art
---
Hi, my name is Flügelchen (Melanie)!

I create sparking fantasy artworks with bold colors, a soft flow and sincere mood. My tools are digital media and watercolors. I love bringing ideas, characters and moods to life. Therefore, I offer commissions. Commission Info

"Flügelchen" is German and can be translated to "cute little wing".
Just call me [ˈflyː].
Commission Info
Current status: open

My experience ranges from working with both individuals on single pieces and companies on ongoing projects. I'm highly reliable and respond as fast as possible.
---
Prices
All listed prices are a starting point for a single character without any background! Details, additional characters and background will add to the price.
| Tier | Price (starting from) | WIPs | revisions |
| --- | --- | --- | --- |
| Rough Sketch | 15€ | no | 0 |
| Flat Colored | 50€ | maybe | 1 |
| Painting | 100€ | yes | 1 |
WIP = Work In Progress
---
Procedure
Please read carefully. Contact me for further questions.
Payment
Payment is upfront via PayPal.
If you order a complex and detailed painting paying 50€ before the sketch phase and the rest afterwards is possible. Please discuss this beforehand.

General process
During the process I'll keep in touch, showing sketches, variations and (sometimes) little extras, such as studies related to the project. I like my commission work to be direct, professional and a personal experience for my customers.

Revisions
If you order a "flat colored" or "painting" I will send you several rough concept sketches (for you to choose) and a nicer sketch/lineart during the process. The price includes one revision of the sketch/lineart if not discussed differently upfront. Please let me know any changes you want at the sketch and lineart stage. Once I've started coloring I will not change the pose/composition. Any additional changes after this step must be paid extra.

Sketches don't include revisions.

Refunds
I don't offer refunds once I've started working on the commission.

Timeframe
Normally I shall finish the commission (sketch, flat colored) within a month, if not discussed otherwise. Paintings will take up to three months. I will keep in contact during the process. Please be patient, but feel free to message me if anything is unclear.

Please respond to any questions I have in a timely manner to speed up the process. If you don't respond the schedule cannot be held.

Copyright
All rights to the artwork stay with me. I may upload the final artwork to my social media or my online shop as I see fit. However, if you commission a present we can discuss a date until which I will keep shut.

The pricing includes personal usage only. You may not use it in commercial projects (such as: book covers, magazines, games, ...).
Licence for commercial usage can be bought separately.
---
Examples
---
---
Examples
Contact
You can contact me via my social media (instagram, twitter or artstation) or E-Mail.